City travel study 2020/2021
The European Tourism Institute (ETI), in cooperation with PROEJCT M and Saint Elmo's Tourismusmarketing, regularly collects market research data as part of this study in order to correctly record and correctly evaluate the changing needs of guests during the course of the Covid pandemic as a basis for the development of offers and effective marketing for city tourism. We make the study available to our clients in a form that is easy to understand.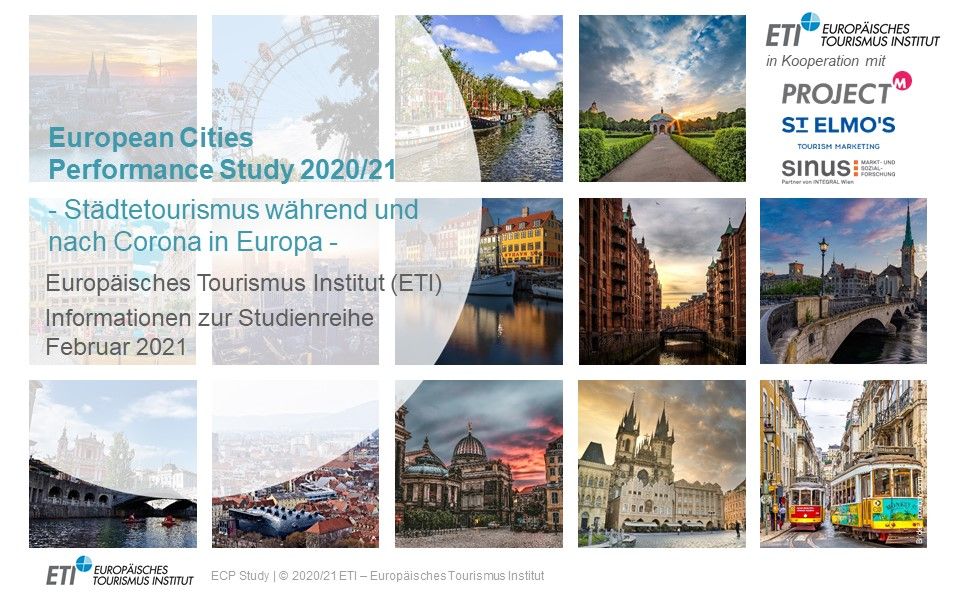 The 2020/2021 study looks at the travel motives, travel, information-gathering, mobility behaviour and willingness to visit of 5,000 people with an affinity for city trips during the Covid pandemic.
In addition, the suitability of twelve city trip-specific topics for 120 European cities was surveyed during and after the Covid pandemic.
Three modules for a comprehensive overview of the competitive situation! You can buy the comparative results for your city in three modules.
Basic module: Presentation of the travel, information-gathering and mobility behaviour of city travellers during and after the Covid pandemic, individual evaluation of your city including classification in the benchmark.
Supplemental module I: Evaluation of the basic module according to Sinus-Meta-Milieus®
Supplemental module II: Development of the number of guests with H-Benchmark (This is the measurement of the number of guests in 10 selected hotels in the city in "real time" for monitoring the restart and for classification in comparison with other large cities including processing of the results in a dashboard with real-time measurement of the number of guests in approx. 10 selected hotels in the city compared to the same period last year and to other cities to assess your own development)
Detailed information and ordering options can be found here (german):